About US
---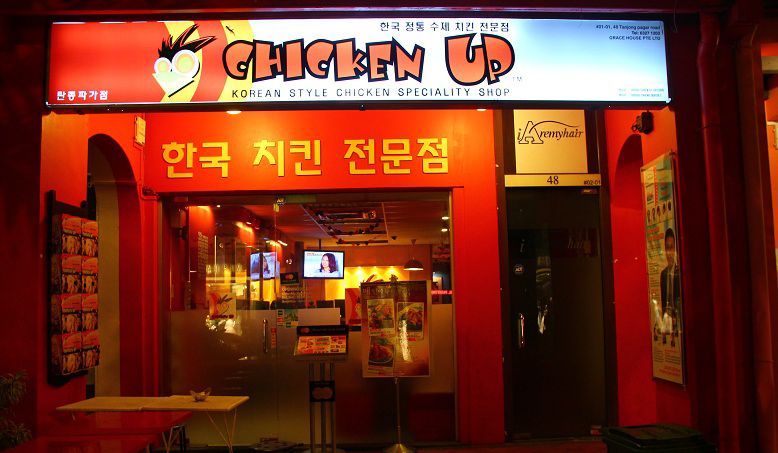 Situated conveniently along the unofficial Korean food street at Tanjong Pagar Road, Chicken Up is possibly one of the best Korean Fried Chicken specialty restaurants in Singapore. Though loosely known as KFC, a familiar American household name, this new style of fried chicken is very different from its American counterparts. By methods of removing the fat from the skin and double-frying, the Koreans created their own distinct variation of fried chicken, featuring moist, succulent and tender chicken meat under its thin and crunchy skin without being too greasy.

As die-heart followers of the hallyu (the 'Korean Wave'), Singaporeans are quick to jump onto the KFC bandwagon and KFC is speedily gaining much popularity all over the city-state. Best known for its signature Spicy Up and YangNyum style fried chicken, Chicken Up serves up several variations of the dish with the accompaniment of different sauces such as soya sauce and curry. The menu also features other authentic Korean fast food and delicious comfort classics. For those who love their fried chicken with beer or Korean soju, the variety of drinks offered at the restaurant will definitely not disappoint.

Opened till as late as 2 AM, Chicken Up is the perfect no-frills eating
placewith indoor air-conditioned seating and an alfresco
outdoor area. It is also a suitable mellow environment for diners of all ages to
simply relax with friends and family, all while enjoying the finest KFC in Singapore.
Info
Chicken Up
We offer delicious and quality foods with excellent service at heart. Chicken Up is a casual dining place where meals are made with care and served piping hot and juicy after 24 hours of marinating. Every order is made fresh. We never serve frozen or pre-cooked chicken. Our specialties come in a variety of different fried chicken recipes, noodles and chicken stew. We manage with pride to give quality foods all the time.
Address:
48 Tanjong Pagar Road
#01-01
Singapore 088469
Opening Hours:
Everyday 5:30PM TO 2AM
Friday and Saturday UNTIL 3AM
Serves: Authentic Korean Food
Best For :
Hangout with friends,
Facebook:
You can find us here