Body Indulgence $88
Therapeutic Body Massage (60mins)
Unlimited use of Whole Body Vibration machine, Jacuzzi and Steambath facilities
Complimentary 2-course meal (Includes choice of 2 snack items from café menu) at in-house Infinity cafe
TCM ZangFu Meridian Slimming Treatment (60mins) $88
100% natural treatment that combines Chinese meridian point techniques with precious stone, herbs and Tibetan fire therapy to aid internal cleansing, detoxification, and improve health.
---
Premium Face Spa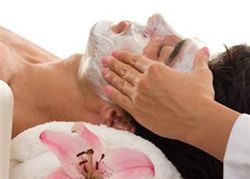 Choice of any Premium Face Spa (90mins) $120,
An array of premium facials for you to choose from, specially catered to suit your skin type and needs.
Unlimited use of the hydrotherapy facilities
Radio Frequency Slimming
RF Body Slimming Treatment (45mins) $49
Latest RF technology improves lymphatic circulation, reduces cellulite and shapes the body.
Unlimited use of the hydrotherapy facilities
Chiropractic Treatment
Do you suffer from back/ neck pain, headache, injuries or poor health?
Chiropractic Treatment $58
Includes Spinal Health Check and Consultation + 1st treatment by US Doctor of Chiropractic
Consultation may take up to 30 minutes, depending on case-by-case basis.
Available with or without redemption of spa treatment.
Terms and Conditions: Valid for one time redemption only · Treatments are applicable for both ladies and men · Prices are subject to 7% GST
Info
Spa Infinity
Spa Infinity offers a full range of treatments from Spa Facials to Chiropractic Treatments to Body Massages. With it's spacious 9,000 sq ft infinite pampering space with 30 luxuriously set rooms, Spa Infinity offers you a relaxing atmosphere and rustic earth-toned interior design with great facilities. Feng Shui inspired design of tropical and Mediterranean elements are used to bring clients through a journey of the senses with the use of water to rejuvenate and restore Qi and blood flow in the body, which is the foundation of life and eternal vitality.
Address :
545 Orchard Road ,
Far East Shopping Centre
#B1-22
Singapore 238882
Opening Hours :
Monday to Thursday : 1030am - 9pm
Friday : 1030am - 930pm
Saturday : 1030am - 9pm
Sunday & PH: 10am -8pm
Services :
Includes complimentary wellness dessert and use of Jacuzzi & Steambath facilities with any treatments.
?Body Massage
Customized Skincare Treatments
Slimming Treatment
Chiropractic Care
Medical Grade Aesthetic Treatments
Body Vibration Detox Therapy
Facebook :
http://www.facebook.com/SpaInfinity
Website :
You can find us here