Salads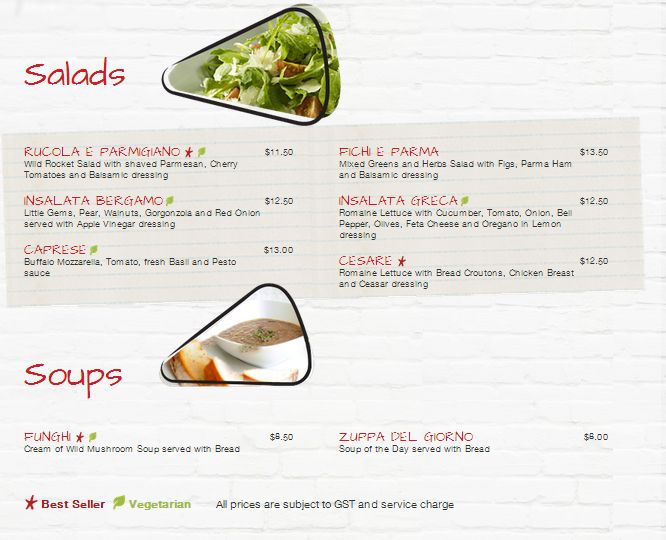 ---
Antipasti & Sides
---
Pasta & Oven Baked Dishes
---
Pizza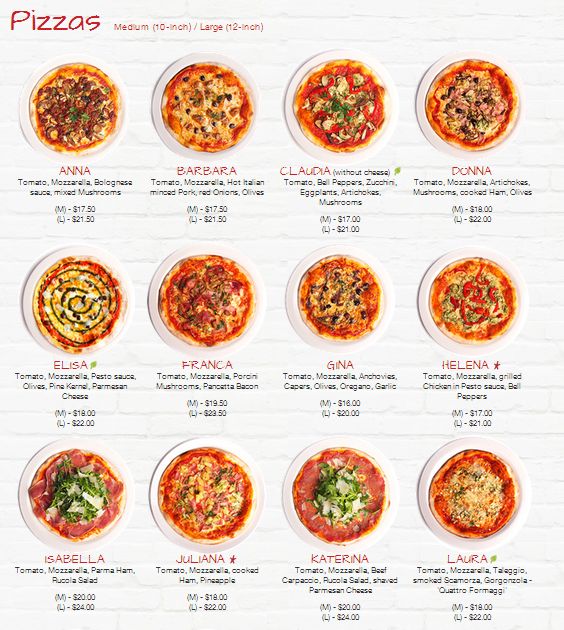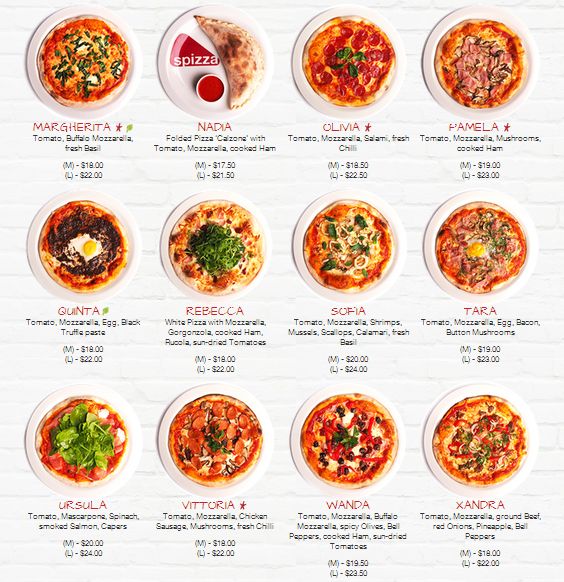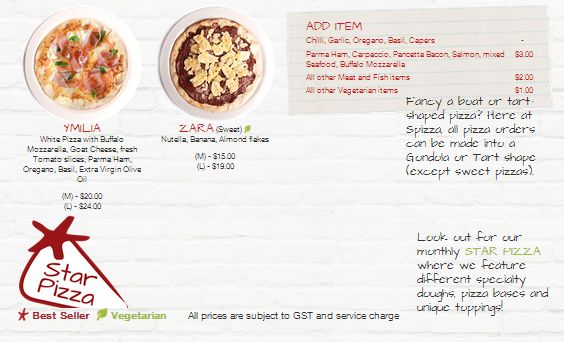 ---
Desserts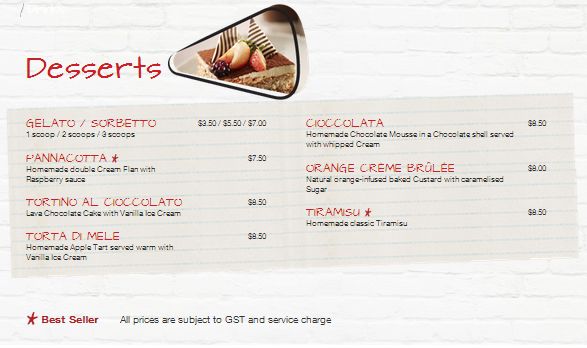 ---
Kids Menu

Info
Spizza
A highlight not to be missed at Spizza is the selection of thin crust wood-fired Italian authentic pizzas which are homemade daily with the brand's proprietary pizza dough, based on a well-guarded recipe which renders a crisp and flavourful crust.

Available in medium (10-inch) and large (12-inch) sizes, the pizza selection offers an impressive choice of 26 flavours. Each pizza is creatively named after classic Italian female names. Tempt your taste buds with the all-time favourite Isabella - with tomato, mozzarella, parma ham and rucola salad; Ursula - with tomato, mascarpone, spinach, smoked salmon and capers; and the latest addition to the menu - Rebecca - white pizza with mozzarella, gorgonzola, cooked ham, rucola and sun-dried tomatoes.
Besides the regular round pizzas, Spizza also offers customers the option of enjoying their pizzas in a Venice-inspired Gondola shape. This boat-shaped pizza conceived by our Head Chef boasts a fluffier crust with juicy filling wrapped within.
All the pizzerias presents a breezy and welcoming space with floor-to-ceiling glass panels, stylish whitewashed bricks with illustrations of Italian icons and wooden furniture. Walk through the doors of Spizza and diners will be drawn to the show kitchen which takes centrestage with its custom-built wood-fired oven gilded with a copper frame.
Diners can choose to sit at the square dining tables or at the long communal table for sharing with family and friends on high stools. Pots of herbs are also placed on dining tables as a natural and unique table décor. Catering for intimate dining for two as well as groups of friends and family, Spizza makes the perfect dining destination for every occasion.
OUTLETS :
Spizza Club Street
29 Club Street
Singapore 069414
Tel: 6224 2525
Spizza Bukit Timah
271 Bukit Timah Road
#01-09 Balmoral Plaza
Singapore 259708
Tel: 633 8148
Spizza Jalan Kayu
269 Jalan Kayu
Singapore 799497
Tel: 6481 2453
Spizza East Coast
217 East Coast Road
#01-01 Tides
Singapore 428915
Tel: 6440 8300

Takeaway only:
Spizza Havelock
Blk 22 Havelock Road
#01-677
Singapore 160022
Tel: 6377 7773
Spizza Pandan Loop
207B Pandan Loop
Singapore 128400
Tel: 6778 2246
Opening Hours :
12.00pm – 2.30pm & 6.00pm – 10.30pm (Daily)
12.00pm – 10.30pm (Sat, Sun & PH)
Cuisine :
Casual Italian Cuisine
Website :
Facebook :
You can find us here