Operation Neon Green
Operation Neon Green, our newest room, is an exciting collaboration between Roomraider SG and Mountain Dew.
You are part of the Elite Raider Special Ops Unit. Your mission – to infiltrate the enemy's command bunker, extract their classified data, and get your team back safely in one piece. Support units are holding off the enemy at the moment. However, Base Intelligence reports that massive enemy reinforcements are converging on your position. You have 45 minutes to complete your mission before your forces are overwhelmed.
Succeed, and you will turn the tide of war. Fail, and you will face capture and certain death.
Prepare to bring it on, or get the hell out of the way!
DIFFICULTY: 5/5
RECOMMENDED: 2 to 8 players (max 10 players)
---
Dark Mansion
Baron Moncrieff is one of the biggest jewellery dealers in 19th century London. He has long been rumoured to have seized the Star of Angola, one of the biggest diamonds in the world.
You chanced upon one of the Baron's many servants at the local pub and discovered that the treasured diamond is now hidden in his secret study within his enormous mansion.
The Baron is away for the night. This is the break that you and your band of professional thieves have been waiting for.
This is your only chance. You must act fast, find the diamond and escape, for the Baron won't be gone for long. What other secrets lurk in his study?
DIFFICULTY: 4.5/5
RECOMMENDED: 2 to 8 players (max 10 players)
---
Hyperion
The year – 2084. Earth's space exploration and defence now stretches out wide into the galaxy.
Moon Base Hyperion, 5 light years away from Earth, holds an important discovery. Energon, the most powerful energy source anyone has ever seen.
Hyperion is now under attack from the Altarians, an aggressive alien race bent on galaxy domination. The Altarians are after the Energon. It would spell doom for planet earth if they Altarians captured the Energon and turned it into a weapon.
Communications links with Hyperion have been lost. Last communications reported heavy damage sustained to the base's defence shields.
Your team is part of the International Space Defence Alliance's elite Space Ranger Force. Your mission – to evacuate the Energon and detonate Moon Base Hyperion to prevent enemy capture.
The fate of earth hangs in the balance. Are you worthy?
DIFFICULTY: 4/5
RECOMMENDED: 2 to 8 players (max 12 players)
---
Prison Break
The Raider State Penitentiary (RSP) is considered to be one of the most escape-proof prisons ever built. Constructed using an extensive system of advanced security networks and sophisticated technology, it was built to banish the most dangerous criminals from the outside world forever.
You are a spy for the Raider Intelligence Agency (RIA). One of your trusted comrades has double-crossed you and your team. All of you have been arrested and are now being held captive inside separate cells of the Raider State Penitentiary.
Suddenly, there is a blackout. THIS IS YOUR CHANCE. You have 45 minutes to escape before the power supply returns, and before the security guards discover your disappearance.
You must co-operate and communicate with one another to find a way out of your cells, retrieve your gadgets, and utilize them to escape from this torturous dungeon.
Do you have what it takes to break out from this prison alive? Are you able to seek justice for yourself and your team?
DIFFICULTY: 5/5
RECOMMENDED: 4 to 8 players (max 10 players)
---
S.W.A.T Firestorm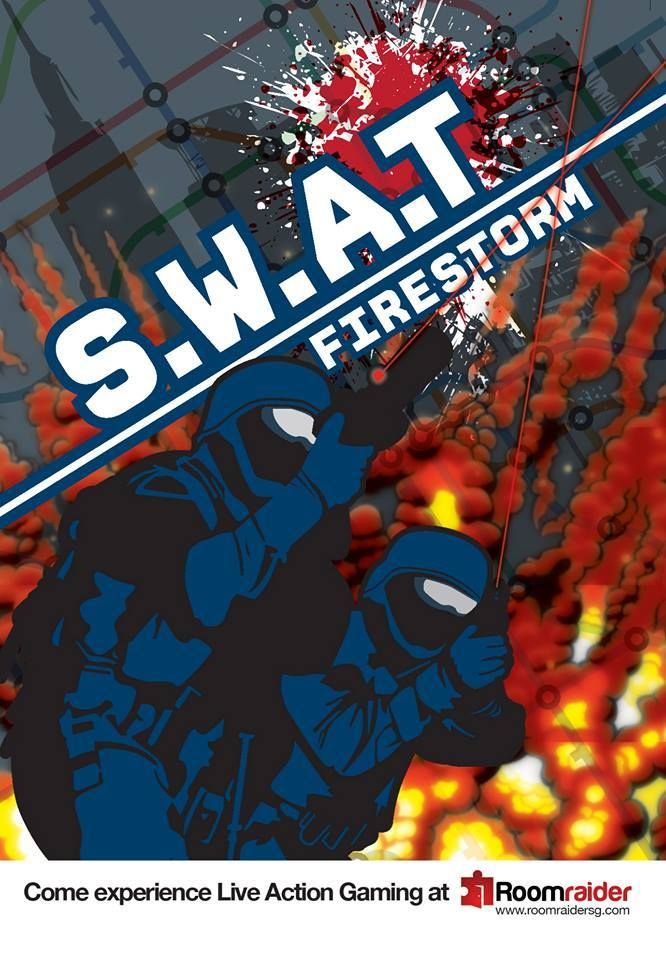 It is peak hour in New York City. Terrorists have planted a bomb in the Times Square Subway Station in New York. All hell is breaking loose.
You and your elite SWAT Team members have been called in to find and defuse the bomb.
You have 45 minutes before detonation. The fate of the city is in your hands. This is not an exercise.
DIFFICULTY: 4.5/5
RECOMMENDED: 2 to 8 players (max 12 players)
---
Where's Cuddles?
Discover an enchanting world of teddy bears. This is where bears are created and brought to life!
Your favourite teddy Cuddles has gone missing. Where could he be?
Be wowed by the fascinating teddy bear factory, a place with bears as far as the eye can see. This is where Cuddles was created and born.
Step into the magical chamber which takes you into Teddy Bear Land. Solve the clues and puzzles within to learn more about Cuddles and where he has gone.
A fun adventure for all ages.
DIFFICULTY: 4/5
RECOMMENDED: 2 to 8 players (max 12 players)
Info
Room Raider
Roomraider SG is Singapore's #1 escape room game. We have one of the largest facilities in Singapore with 6 exciting game rooms under 1 roof at our Orchard Central location.

Each themed room will have a different story and objective. One moment, you could be involved in a jewel heist in 19th century London, and the next, defusing a bomb in Times Square Station, New York.

Our rooms have been meticulously built and fitted out to take our customers into a fantasy world. You will be part of the story. Handle cool props and gadgets, find secret trap doors and compartments. Come see, hear, and feel the action!

If you like riddles, brainteasers, codes, mysteries, and adventures, then this game is for you. Not everyone will be able to complete their objectives within the set timing. What is guaranteed, is fun, a few laughs, and a truly immersive experience!
Address :
181 Orchard Road
#05-45 Orchard Central
Singapore 238896
Operating Hours :
Monday to Sunday : 11.30am to 10.30pm
(Last Game starts at 10pm)
Website :
Facebook :
You can find us here