PEACH FRUIT TEA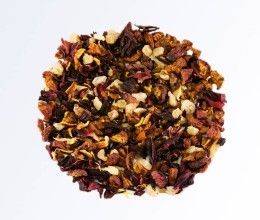 Flavour: Slight Sour
Enjoy: Chilled, with or without honey/sugar for better taste
Strength: Medium
Flower Tea: Hibiscus, French Rose Buds, Peach, Lemon
BLUEBERRY FRUIT TEA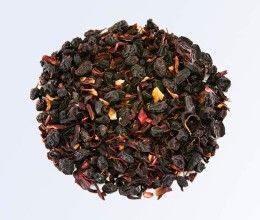 Flavour: Slight Sour
Enjoy: Chilled, with or without honey/sugar for better taste
Strength: Medium
Flower Tea: Hibiscus, French Rose, Herbs, Blueberry, Blackcurrants, Grapes
APPLE ROSE TEA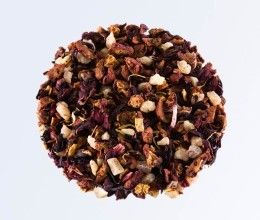 Strength: Medium
Flavour: Slight Sour
Flower Tea: Dried Apple, Roselle, French Rose, Orange
Enjoy: Chilled, with or without honey/sugar for better taste
Info
Hi Tea Boutique
We are committed to provide our customers with flower tea products that provide quality and would also be benefiting to their health. Did you know that drinking tea can enhance your beauty? Tea makes you live longer and look younger and also improve your health? One cannot resist our aromatic and irresistibly good flower tea blends, fruit teas and wide range of loose teas.
We take every opportunity as a step further in educating our customers about the goodness of drinking flower teas and the great amount of benefits it has to our health. We ensure that every batch of flower teas are of premium quality and reach our customers' tea cups in the as much naturally preserved as possible.
Customer satisfaction is something that we will never compromise. We ensure that all our customers get the optimum quality so that they never regret purchasing from us. Therefore, we will not sell anything below premium grades. All tea products are in premium quality, most natural form and fresh.
Flowering Teas:
Let us introduce to you our exceptional Hi-Tea in-house blends of flower teas! We have a total of 5 different series of blends which include the Health Series, Beauty Series, Anti-Aging Series, Slimming Series and also Relaxation Series.
A number of our customers find it hard to choose the perfect flower teas for them owing to the wide range we offer. So for their ease, we came up with these separate series.
All these series are specially selected and blended to bring you a whole new experience of taste and aroma! You will not have to worry of which flower teas to blend. We have done it all for you. You are able to select the type of series based on your taste and needs. Try out our Flower Teas Special Blend Series today!
Fruit Tea:
We make our fruit tea by using 100% natural products. These includes flowers and fresh fruits, both dried and mixed. It does not contain any caffeine, flavouring/colouring or additives. Our fruit teas are full of vitamins, fruit acids & minerals with natural colouring. It is a popular tea selection among our tea drinkers. They love it fresh and fruity.
Loose Tea:
If you prefer to have single type of tea selection, we have that too! We provide premium quality of loose tea that is natural. Currently, we have 5 popular selections of loose teas. These include the Natural Chamomile Tea, Natural Chrysanthemum Tea, Natural French Rose Tea, Natural Lemon Grass Tea, and Natural Peppermint Tea.
We import only small quantities each time so as to ensure our customers get flower teas that retain their most natural and fresh form. We also will be bringing more selections of loose flower tea soon to give an even wider range of tea to our customers.
Contact :
+65 8157 2210
Website :
Facebook :
You can find us here