E-Light Premium Facial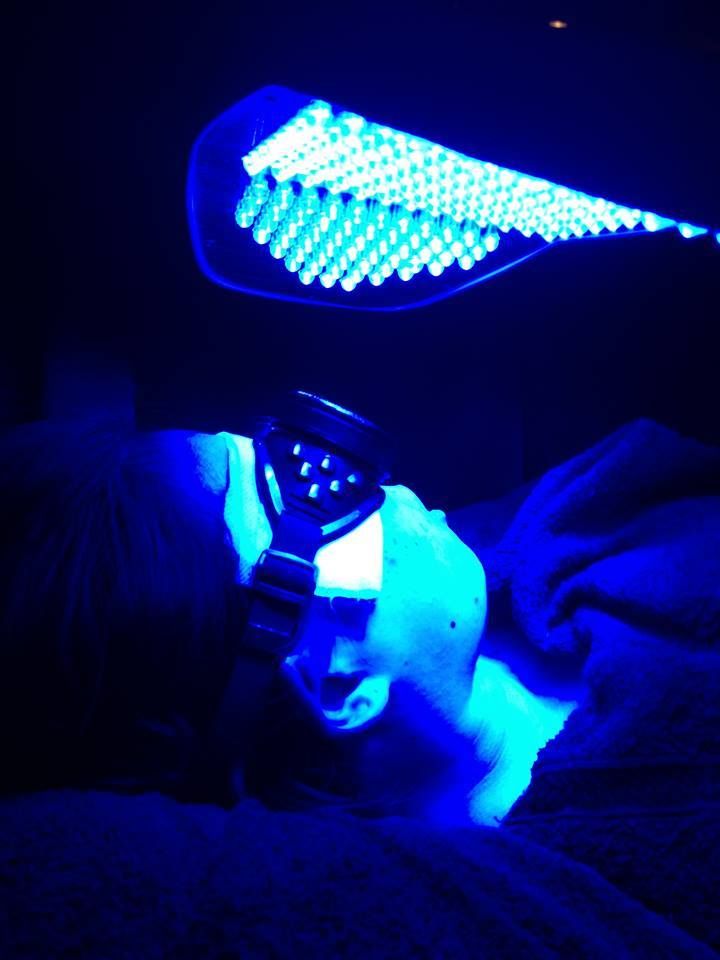 Have you ever thought you would like to present a fresher, more youthful appearance to the world?
Many of us would like to achieve firmer, fuller and younger looking skin but don't want to have to undergo invasive surgery. This is a non-invasive anti-ageing treatments which will help you turn back the years in a subtle, gentle and more natural way. We combine the most advanced technology with trained therapists to offer you a range of treatments that will rejuvenate and restore your skin. You can be confident your individually tailored treatment will achieve just the results you are hoping for.

What Is E-Light Photo Rejuvenation? Our equipment combines state-of-the-art optical energy, Pulsed Light with Radio Frequency (RF). With the addition of RF energy the goal is to use less optical energy. The lower optical fluency (energy) allows for the increased treatment safety of all patients including those with darker or tanned skin.
This technology is used to restore the skin's youthful appearance and to stimulate the skin collagen and renew cells from within the skin. Photo rejuvenation is a non invasive process, which generates pulsed light combined with radio frequency to safely reduce the melanin (dark pigment) in the skin, so that pigmented lesions fade and slowly disappear. It reduces acne, scars instantly and helps in skin rejuvenation as well!

This results give a more radiant and youthful skin. The treatment is ideal for patients with active lifestyles because it requires no downtime. No Pain Very Safe !! You can return to normal activities immediately after treatment!
Suitable For
- All Skin Tone
Book An Appointment Now
120 minutes | $250
Price included 7% GST.
---
BioSurface Facial Peel
Chemical peels are one of the most sought after professional skin services today because they can quickly treat aging skin, reduce hyperpigmentation and acne, brighten and improve skin radiance. But they also tend to be too aggressive for most skin types, resulting in significant downtime for healing and recovery. With new BioSurface Peel, downtime is a thing of the past. Consumers can finally benefit from a peel that is less toxic, less costly and more focused on working with the skin, not against it.
Suitable For
- Dull Facial Skin Tone
- Aging FacialSkin Tone
- Dry Facial Skin Tone
- Dehydrate Facial Skin Tone
- Hyper Pigmentation Facial Skin Tone
Book An Appointment Now
60 minutes | $150 (U.P $250)
Price included 7% GST.
Info
Pure Elements
Since 2007 Pure Element Skin centre located in Ang Mo Kio the central of Singapore, aims to provide effective facial & body therapy in town with the highest hygiene standard. Using the most natural dermalogica, a skin care system researched developed by the International Dermal Institute free of common irritants and ingredients that could cause breakout including lanolin, SD alcohol, mineral oil, artificial colors and fragrances for both men and women.

Customized facial with more than 50 treatments options to ensure that your treatment changes as your skin condition changes. Facial services including microdermabrasion facial, RF radio frequency facial, 24k gold facial, anti oxidize oxygen facial therapy, photon facial therapy, IPL permanent hair removal, E-light facial therapy, facial chemical peeling and laser treatment with amazing results in just one treatment.

We are specialize in face and body treatments with well trained aesthetician to serve you with 100% passion. Unlike other beauty center, hard selling of packages, we strongly focus on quality, one to one services to our client and we promise to assign the most experience aesthetician to follow up in every treatments.

We are equipped with the latest microscopic skin analysis device from Korea which can view up to 300 times that we cannot see with our naked eye. This defined skin analysis procedure enhances the monitoring of customers' treatment process, enabling any changes of skin conditions.

Our philosophy

We listen, advise then we treat.

We treat your skin like our own

We are not beauty therapist, we are skin therapist. Beauty therapist is a word for people who deal in beauty products and services. It's about being pretty. It's temporary. It's less than skin deep. We believe in skin therapists. Educated professionals who keep your skin healthy for life. Who know the difference between quick fixes and real results. Even for their own skin.

Facial is a long term maintenance which you have to work hard between you and your selected aesthetician.

It is a bonus, daily maintenance is equally important. Everyone's skin is different. So we are trained to customize each treatment.
?
We are not beauty therapist, we are skin therapist.
Address :
Blk 233 Ang Mo Kio Avenue 3
#01-1180
Singapore 560233
Operating Hours :
Weekdays
10.00am -8.00pm
Last Appointment
7.00pm
Weekends & Public Holidays
10.00am - 7.00pm
Last Appointment
6.00pm
You can find us here